Rental with driver
Cassarà srls provides for years a car rental service with driver of high quality and reliability. We offer unbeatable prices transport services with driver, using the best tools and the best professionals, to ensure comfort, punctuality and courtesy to our many customers.
Our services are available H24 and 7 days a week, include rental services taxi with driver for: Airport, Harbor, Train Station, Resorts, Congress , Hospitals etc.
Our advantages are : punctuality, reliability and efficiency that each characterize our rental service. Booking system and info via Phone, E -mail to allow the customer to book a taxi in a fast and transparent. With an immediate answer to any question.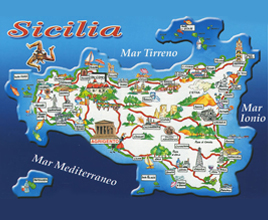 Excursions - Transfer in Sicily
Taxi Cassarà performs transfer for all Sicily starting from Gela. To discover the beauty of Sicily, from the largest cities to the smallest villages rich in history. Connections to the main airports on the island:
PALERMO-CATANIA-COMISO-TRAPANI

Transfer in Sicily with customizable itineraries depending on the need of our passengers
Special service from/to Comiso Airoport
Airoport Comiso-Agrigento; Airoport Comiso-Piazza Armerina; Airoport Comiso-Licata; Airoport Comiso-Taormina-Giardini Naxos; Airoport Comiso-Palermo; Airoport Comiso-Gela; Airoport Comiso-Donna fugata Resort; Airoport Comiso-Sikania Resort; Airoport Comiso-Castello di Modica; Airoport Comiso-Marzamemi; Airoport Comiso-Noto; Airoport Comiso-Siracusa; Airoport Comiso-Cava di Ispica; Airoport Comiso-Ragusa Ibla; Airoport Comiso-Porto turistico Marina di Ragusa; Airoport Comiso-Falconara Resort Village.