Excursions - Transfer in Sicily

All tours in Sicily are carried out with vehicles equipped with every comfort including air conditioning. The rates were established based on the number of people and to put in order with the existing licenses and insurance included driver. For any information regarding the tours contact us by sending an email to: info@taxigela-aldocassara.it or fill in the form on the page contacts
From / To Sicilian Airports
Links to all major airports on the island: Palermo, Catania, Trapani and Comiso. At the airport you will always find a driver who will assist you for all of your travel itinerary from arrival until departure to the place of destination.
Any destination
We carry out transfer to any destination in Sicily. All trips are made by means of transport equipped with every comfort including air conditioning. Our vehicles are equipped with every license.
Coveted Locations: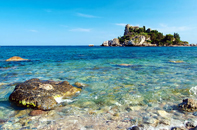 Taormina
Taormina is the main tourist destination of Sicily. Over the centuries the town has fascinated tourists and visitors from around the world who have chosen to immerse themselves in its unique atmosphere, made of natural and cultural attractions and mild climate all year making it the place of eternal spring. The greek-roman theater, location of important international events, Palazzo Corvaja, the Naumachie, The Palace of the Dukes of Santo Stefano make Taormina excursion not to be missed.
Siracusa
Among the oldest cities of the Mediterranean, rich in history and monuments and expresses the diversity and cultural complexity that characterize the life of Sicily. Here is located the Archaeological Museum, which houses artifacts important for the study of prehistory and early history of Sicily. City historically linked to culture and the arts, now in its beautiful greek theater are staged works of ancient Greece and the recent event OrtigiaFestival collects names and modern theater.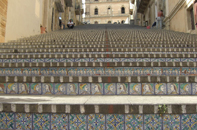 Caltagirone
Is known worldwide for its handmade pottery that still committed hundreds of artisans. The art of tiles has ancient origins: the first ovens date back, in fact, the Muslim period and the Normans and testify of a task that has never been extinguished over the centuries. Architecturally interesting are the Norman cathedral dedicated to St. Julian, the long Via Roma is the main road, cutting the city in two, comes to the foot of the now famous steps of Santa Maria del Monte.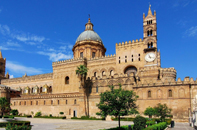 Palermo
The city of Palermo is the capital of the Sicilian Region and is the seat of the Sicilian Regional. It was and is all 'today among the largest cities in the Mediterranean and one of the main tourist destinations in the region Sicily. Palermo has the largest number of monuments in the town center, but many are distributed all over the territory of Palermo, as the many historic villas, watch towers, traps. As well as in the province where you can admire the spledide town Cefalù and Monreale.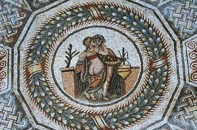 Piazza Armerina
The monuments, churches, ancient palaces, make Piazza Armerina a splendid city of art. Piazza Armerina is at the center of a vast archaeological zone classical (Mountain of March, Monte Naone, Rossomanno, Monte truncheons, etc.), its territory of great interest for the archaeological excavations, especially those of the Roman Villa del Casale. The "Roman Villa" dates back to the late third century AD Beautifully decorated with beautiful mosaics, it is a luxurious private residence belonging to a powerful Roman family.